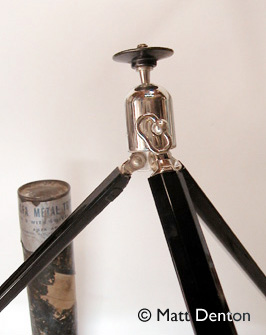 Produced sometime between 1926-1944
Mount standard thread
head swivel ball with locking key
Leg sections 4 with locking buttons
Feet rubber ball over spikes
Max Operating Height 46″
Min Operating Height 6″
Weight 1lb, 8oz (680.4g)
---
Overview
Agfa Ansco Metal Tripod No 2 with swivel head, made in Binghamton, NY. Beautiful chrome head, all-metal construction, folded length about 18″, max extension about 48″. The legs don't lock at the head so the feet can splay out and the tripod can be used as a tabletop tripod at a height of as low as 5-6″. Max stable height is about 46-47″. Has spiked feet covered with removable rubber feet.
I had four tripods already (somebody stop me, please) but I realized that the older folders (Plenax, Nettar) don't fit on a modern flat-plate tripod, and they are the ones I feel I really need one for. So I scouted around for a vintage portable ball-head tripod with a small enough head that it would accept the low-clearance mounts on my favorite little folders. I looked also at some beautiful old Biloras but settled on this little prize, which came with its original blue cardboard tube with metallic label.
No extension tube you say? They didn't have them back then, and as a matter of fact it's better that way. Here's the funny thing about extension tubes: as soon as you raise the extension, your camera is no longer on a tripod, it's on a monopod. The monopod is on a tripod. For maximum support, tripods should be as tall as you need them without extending the extension tube.
Repairs
None, just a little light cleaning on the somewhat greasy legs. The rubber balls on the feet were hard and deteriorating from age, I've since replaced them with small rubber feet from the hardware store.
Related Links