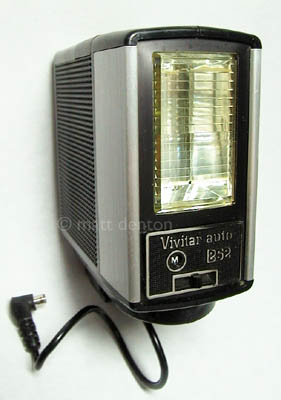 Manufactured Vivitar (?) Korea
Guide Number 16 at ASA 100
Angle of illumination
Working range in auto modes 10-19 feet
Flash duration 1/2000 – 1/30,000 sec
Recycle time 3-4s
Batteries 2 x AA 1.5v
# of flashes
Auto ASA range 25-400
Weight
thyristor circuit (early)
test button
lock lever
built in sync cord
---
Overview
Durable compact flash that shares features of a larger pro flash. Has a built in sync cord for use with older cameras that don't have a hot shoe, or for modern cameras that can't handle the high trigger voltage of an older flash (here 200V). Reasonably lightweight, with a lock lever for both locking it in place and tightening the hotshoe contacts to complete the circuit. Works in both auto and manual modes.
Usage
This flash has auto mode in two distance ranges, indicated by red and blue on the front switch and back dial. Can also be used in manual mode by setting the switch to M. You set the ASA on the back dial, then read across to set your f-stop
Like a larger studio flash, this unit will run on AC with the optional Vivitar SB-1 AC cord, which plugs into the side. I would take the batteries out first if you're going to do this.
Tips & Tricks
From what I can tell the coiled cord needs to be plugged into the PC port in the cord chamber for the flash to fire in a hot shoe. Other feature – a built-in light! Push the button on top and the dial lights up for those REAL low light situations. Hey – just like my Indiglo watch!
The other thing is to watch out using older flashes with modern electronic cameras, high trigger voltages can damage sensitive electronics. See this page for more info:
http://www.botzilla.com/photo/strobeVolts.html
Related Links