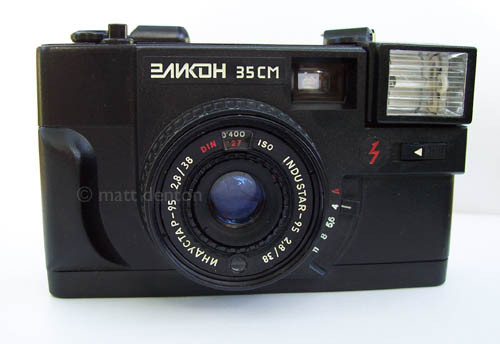 Produced 1991-, Zenit-Vilejka (BeLOMO), Vilejka, Belarus
Film type 135 (35mm)
Picture size 24mm x 36mm
Weight
Lens Industar 95 1:2.8 38mm (4 elements in 4 groups)
Focal range 1m to infinity scale focus
Aperture settings A, 4, 5.6, 8, 11
Filter size n/a
Shutter leaf
Shutter speeds 1/8 to 1/500
Viewfinder telescopic with bright line frame
Exposure meter
Battery two AA for flash and 'auto' setting
ASA 25-400
pop-up built in flash
wind lever
---
Overview
Cheap copy of the Konica C35EF made in Belarus by Zenit-Vilejka, a subsidary of BelOMO (Belarus) in Vilejka, north of Minsk. Not a very remarkable camera, it's a scale focus viewfinder compact with a pop-up flash. Sharp-looking coated lens however. Not quite as fun a user as the more solidly built Smena.
Repairs
Completely blank roll! There's either a problem with the film transport or more likely the shutter. Requires investigation.
I'm thinking about what I can do to make that battery door more reliable. A little dot of emery cloth glued to the tab perhaps?.
Tips & Tricks
Careful of that battery door, it's tough to close and keep closed because it doesn't really grip too well. This is the spot where the build quality really shows.
Related Links