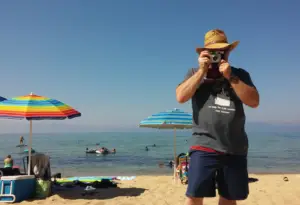 Welcome! These pages contain information about my collection of classic cameras and my impressions of them, as well as their history, useful tips (they're almost all 'users') and other random information. I have included the years my own cameras were produced (if I know them) next to the model production years.
Repair info is given for those cameras that came to me in need of a little TLC (in other words most of them — that's part of the territory I suppose). I've also included many page-specific Links to other sites with further information, many of which were very helpful in finding out more about these and other collectible cameras.
Filter size info is listed for uncommon lens sizes in case you're like me, fanatical about using lens caps and UV filters and are having trouble finding this info. Battery types are listed too, including current replacements for obsolete batteries.
Each section now has its own sample image gallery, so you can see and browse all the sample pictures taken with all the cameras and lenses that I've shot and documented.

General repair info is located on my repair tips page. There is also a page of tips for buying cameras on ebay as that's where many of these wonderful classics have come from.
There is also an additional notes page, for all the stuff that wouldn't fit anywhere else. This actually lives on my main photography page. Yes, sometimes I even confuse myself.
A 'relatively' new section by popular demand is a darkroom info page, for darkroom setup and developing tips. So happy to be getting back into this again after a too-long hiatus. I love the smell of developer in the morning!
There is also now a blog so that I can keep people updated with announcements and whatnot in lieu of page updates! Or better yet, follow my random bite-sized musings on Twitter.
All information given herein is true to the best of my knowledge — and from manuals whenever possible — but in some cases relies on unverified sources, and in other cases my best judgement (picture me with a ruler measuring lens housings for filter sizes). Weights are almost all real-world, meaning I weighed them myself on a digital postal scale, with batteries and/or takeup spools included as often as possible. I do frequently update the pages as I find out more specific information about these cameras and their kin, and of course as the collection grows and changes. If you have information to add or would like to ask questions about these cameras, their use or care, or even just want to say 'hey', feel free to email me, I always enjoy hearing from you!
Related Links