Produced 1980-86 Olympus Optical Co. Ltd., Tokyo, Japan
Film type 135 (35mm)
Picture size 24mm x 36mm
Weight 200g
Lens D.Zuiko 35mm 1:3.5-22 (4 elements in 3 groups)
Focal range 1.3m to infinity in 3 zones
Filter size n/a
Shutter Olympus between-lens
Shutter speeds 2s-1/750 aperture-priority automatic
Viewfinder Albada-type bright-line finder
Exposure meter CdS
Battery two SR44 / S76 silver oxide button
ASA 25-800
Self-timer
Thumbwheel winder
---
Overview
This cute compact is the simplified version of the pro-quality XA. They share many design similarities including the same distinctive clamshell body and feather-touch electromagnetic shutter release. This model has a 35mm 1:3.5 4-element lens, instead of the outstanding 6-element lens in the XA. Make no mistake, though, it's still a sharp contrasty little Zuiko that will outperform many a point-and-shoot. (SHHH – don't tell anyone, it may even be sharper than the XA lens!) Instead of true rangefinder focus as found on the XA, this one has zone focus in three groups: close (1.2m-1.8m), near (1.2m-) and far (6.3m-infinity). It resets to the middle setting every time you close the case and that's basically where you should leave it for most pictures, just point and click, exposure is fully programmed.
Uses the same flash module(s) as the XA. Pictured is the admittedly low-power but super-small X11 flash. Very unique design: the unit attaches to the side of the camera with a thumbscrew mechanism, and in doing so activates the dormant flash coupling feature. Set to ASA 100, 400, or FULL (when used on the XA, where you can choose the aperture and do the math). When attached the flash becomes part of the camera, transforming it into another entity altogether. So clever I believe it was copied by other manufacturers, notably Kodak.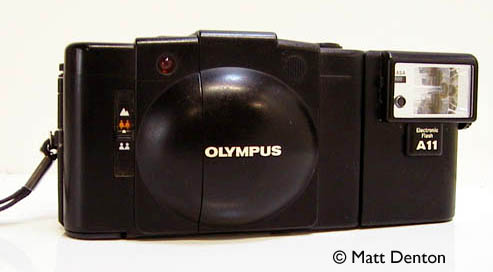 Asking around, this seems to be the camera photographers give their camera-impaired relatives as a simple but high-quality no-brain shooter. I've also heard it to be used as a backup for pro photographers in tight spots when they need a quick grab, though if it were me I'd look at something autofocus like an old Stylus. BUT I'm happy to recommend it as a small, fun, and quirky alternative to the overpriced (and possibly overrated?) Minox wannabe, the LOMO LC-A. At the time of this writing, you can take the money you were going to spend on a USED LC-A and pick up an XA2 and still have enough money left over to buy yourself a decent SLR kit (like a Ricoh or Praktica) or a decent TLR like a Lubitel-2 or Ricohflex. Or a year's worth of film. See my LC-A page for "the rest… of the story."
Truth in Advertising
I have taken many many pictures with this camera, it is one of my all-time favorites. It will quickly spoil you with its small size, sharp lens, great metering, and ease of use. I carry it with me nearly everywhere when I don't have another camera! Sorry C35…
Repairs
Light leaks – I was so excited to find that the shutter was working on this $4 garage sale find that I neglected to check that the light seals were intact. They weren't. Still, I was able to get some decent pix on my test roll, including the sample above. Followup: checking the negs against the inside of the camera it looks like the only real issue was the seal by the hinge, which I replaced with film canister felt, cut to width and laid end to end, glued with Pliobond of course. Subsequent rolls have not shown any other leaks…
I've read that a common issue is inconsistent shutter tripping when pressing the red plastic button; apparently if it's pressed too hard it can deform and if it's not perfectly flat on the bottom it doesn't trip the shutter. But it can be removed and sanded, apparently that helps quite a bit.
Tips & Tricks
Tip appropriated from the quirky LOMO LC-A: in low light, don't move until you hear the *second* shutter click, the first is the shutter opening and the second is it closing. ALso, low light is when you would really think about using the zone focus settings to be sure your subject falls within the depth of field.
The sliding cover ('dust barrier') must be open to fire the shutter, and must be closed to open the back for film loading/unloading. The two button batteries (note – only silver oxide batteries are recommended, don't use alkaline) are supposed to last a year before needing replacement.
Related Links
Here's a page dedicated to the Olympus XAs
Site of the XA2 Owner's Club
Archive of the XA FAQ
Nobody really takes these seriously enough to make a whole page about them.