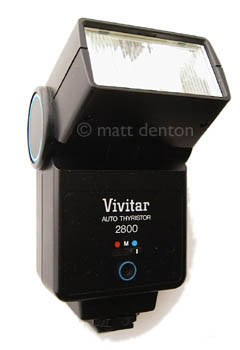 Manufactured Vivitar (Japan)
Guide Number 24m at ASA 100
Color temp 6000K
Flash duration 1/2000 – 1/30,000 sec
Recycle time .5 to 5 seconds
Batteries 4 x AA 1.5v
# of flashes approx 450
Bounce angles 0, 45, 60, 75, 90°
Weight 9.4oz with batteries
thyristor circuit
auto check and off
test button
Close cousins: Vivitar 2800D
---
Overview
This is my favorite general use flash for SLR cameras. It's not too big, it's not too heavy, yet it stands off the camera far enough to make less noticeable shadows than a smaller/closer flash. It tilts for bounce (but doesn't swivel); it has two auto ranges plus a full manual setting. And it recycles quickly. The full kit comes with color panels to cover the flash tube, and a wide angle diffuser for use with 35mm. Sadly mine did not come with these add-ons, I got it at a thrift store for $8.
Usage
The easiest way to use this is in auto mode in one of the two ranges (blue for 3-20 feet to subject; red for 6-40 feet to subject.) Set shutter speed to sync, aperture as appropriate for film speed, and fire away. Or you can calculate manual settings. For more info see the manual, I got it from Vivitar but am hosting it locally.
Special Notes
I've heard some people say they don't like the auto off feature, when the flash turns itself off from disuse you reset it by switching it off and then back on.
Related Links